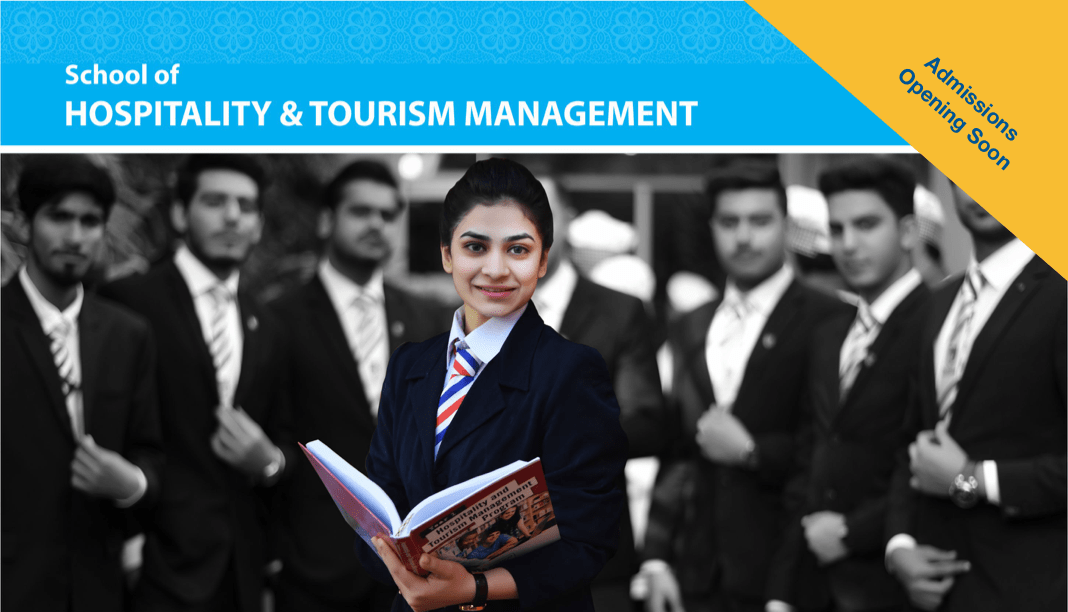 Hospitality and Tourism Industry
Hospitality and Tourism make one of the fastest growing industries across the world and the rewards are worth the pursuit. It is one of the largest and most dynamic fields in today's world where exciting and newer opportunities roll out every day in various areas. Being in this profession you will discover new ideas, meet new people, build connections, visit more countries and experience new cultures. If you have energy, creativity, a true entrepreneurial spirit, you will be able to reach higher positions of responsibility very early in your career.
This industry is global and one of the biggest employers in the world. Out of every 100 people, 10 are employed in the hospitality sector. But there is an immense shortage of skilled workers in the field, creating numerous employment opportunities annually for ambitious and career-oriented people across the world. This industry is meant for you if you aspire to pursue an international career. You will find job opportunities in different countries irrespective of your geographical boundaries. Wherever you choose to work, you will find yourself among people from different backgrounds. This experience will not only increase your knowledge of different languages and cultures but will also gradually make you a sought-after employee throughout the globe.
Career Possibilities
You can start your career as a front desk officer, guest relations' officer, cook, porter, housekeeper and then move on to higher positions as your experience grows. Hospitality industry allows you to develop your own combination of skills according to your interests, and to find a position corresponding to your own strengths and areas of interests.
Because of its wide range of business activities and specialization, hospitality sector also allows you to change fields easily within the industry. You can shift your career direction as your interests change and grow with plenty of flexibility to follow new trends and opportunities keeping up with rapid technological developments. With your knowledge, skills, connections and ability of organization, you can easily launch your own hospitality venture or execute an original business concept.
Programs in Hospitality & Tourism Management
COTHM offers a number of study programs in hospitality management. Most of these programs are recognized, internationally accredited qualifications awarded by world-class international institutes imparting education and trainings in hospitality management. A large number of COTHM alumni are part of highly motivated and dynamic staff at international hotels, restaurants, resorts, cruise lines and other establishments providing accommodation, meals, and other services for travellers and tourists around the clock. Having a sound educational and training background from COTHM, they prove to be the best among their contemporaries raising the bar for excellence even higher.
Career prospects:
Hospitality Schools
Founded in 2002, the COTHM is the leading International Hotel School. COTHM is committed to upholding standards of excellence in education and training of Hospitality Management, Travel, Tourism & Airline Management, Culinary Arts and Baking & Patisserie. We are in the process of establishing collaborations with local Institutes and universities to offer our globally recognized hospitality courses.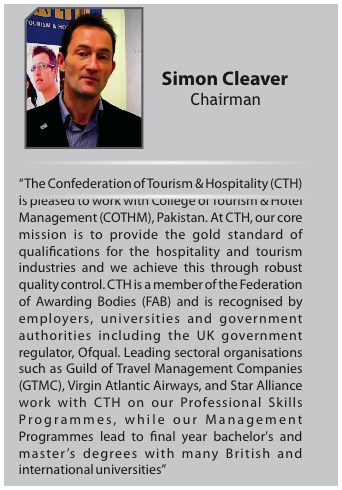 DOWNLOADS
Downloads | School of Hospitality & Tourism Management
Click to Download
| Document Title | Download |
| --- | --- |
| Graduate Diploma in Hospitality & Tourism Management (Level-6, CTH-UK) | Download |
| Postgraduate Diploma in Hospitality & Tourism Management (Level-7, CTH-UK) | Download |
| Graduate Diploma in Hospitality & Tourism Management (AH&LEI-USA) | Download |
| Postgraduate Diploma in Hospitality & Tourism Management (AH&LEI-USA) | Download |
| American Hospitality & Tourism Management Program (AH&LEI-USA) | Download |
| Fee Schedule | Download |